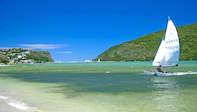 This selection of Knysna hotels comprises the very best of 4 and 5 star hotels in this attractive seaside town. Some of these Knysna hotels on Garden Route are in close proximity to the Waterfront with its many charming coffee shops, boutiques and restaurants, while resort-type hotels, famous for their champion- ship golf courses, are in the pristine countryside.
Knysna Hotels on the Garden Route
Reasons to Stay in Knysna
Explore nature, on land and on the sea. Absorb the tranquility of Knysna into your spirit and go home invigorated.Knysna accommodation ranges from affordable self-catering apartments to luxurious golf resort hotels offering the Spa experience. With a backdrop of lush forests, between the majestic Outeniqua Mountains and the Indian Ocean, dominated by the Knysna lagoon and the spectacular Knysna Heads, guarding it from the sea.Knysna is one of the best known tourist destinations along the Garden Route. Knysna satisfies the needs of all visitors, young and old: whether you come here to relax and do nothing at all, or seeking adventure, or escape from the mundane. This is a true nature lovers paradise.On the water: go fishing, boating, scuba diving, water skiing or even whale watching. In the forests: nature trail hikes, birding and mountain-biking.
And then there's golf
at world class golf courses like
Simola
Hotel Country Club or
Pezula
Golf Resort.This scenic paradise, with its amazing attractions and activities, and pristine beaches and forests, makes Knysna a "definitely superb" holiday destination. Knysna also hosts many annual festivals. There's the annual Oyster Festival, the Gastronomica Festival, the Pink Carnival, and the Rastafarian Earth Festival.Knysna hotels are best known for their hospitality: relaxed, unhurried and personal - you are always aware that you have all the time in the world to explore. Knysna is also best known for unusual things to do. Get over to
Knysna Elephant Park
and go for a ride on an elephant. Or take the Featherbed ferry out on the lagoon
Local Places of Interest
Knysna Heads
Outeniqua Mountains
Knysna Featherbed Nature Reserve
Whale watching
Golf
The Oyster Farm
Knysna Waterfront
Weekend markets at Sedgefield
Hakerville and Wilderness
Knysna Elephant Park
Knysna nature reserves
Oudtshoorn Ostrich Farm
The Cheetah Farm
Cango Caves
Knysna Nightlife and Activities
Knysna is a place with spectacular scenery and pristine beauty, but after dark, a whole new atmosphere awakens. This vibrant town boasts over 50 restaurants, pubs and bars. The Oyster Bar has become world famous for their delicious delicacies and refreshing drinks.
All of the restaurants and pubs offer a great vibe and friendly locals. For the younger set, their are many clubs and discos to get the blood flowing. Listen to live music and dance the night away at one of these lively nightspots.>
Knysna Hotels