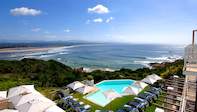 Villas and guest houses comprise Plettenberg Bay accommodation. Beaches and lagoons along the Indian Ocean edge of this Garden Route holiday resort are popular amongst South Africans and a must for international travellers wanting the perfect base from which to explore this nature lovers utopia.
Reasons to Stay in Plettenberg Bay
A holiday bonanza for everyone. Families, nature lovers, honey - mooners, golfers, surfers, mountain bikers, equestrians, extreme adventurers... Plettenberg Bay might be small but it is in the middle of everything you may wish to pursue.
Take a hike around the Keurbooms River Lagoon or in the Robberg Peninsular Nature Reserve.
Visit Knysna Elephant Park or Monkeyland, the world's first free roaming multi-species primate sanctuary.
Also Birds of Eden - a bird park, which shows nearly 300 species of the area.
If lounging around on white sandy beaches is not enough, there is a whole ocean playground. Water sports like scuba-diving, sailing and deep-sea fishing can be arranged from the Plettenberg hotel you happen to be staying at. If you plan to be here July through December, you should take a boat trip and go whale watching.
Plettenberg Golf Course
is nearby, for the golfing types, whilst the more adventurous might like to throw themselves off a bridge at the highest bungee jump in the world at the Bloukrans River Bridge, just a little way up the road. Plettenberg Bay is all about family fun.Plettenberg Bay hotels provide such extras as children's swimming pools or jungle gyms. Then there is Wild Waters Adventure Park swimming pool, water slides, a playground, mini-golf course, trampolines and everything else to keep children occupied.And it's not all about beach. Plettenberg Bay is full of arts and crafts shops, studio galleries and jewellery stores. Night life is plentiful with many excellent pubs and restaurants along the beachfront, ranging from five star to funky-casual.Plettenberg Bay is also about luxury hotel accommodation in beautiful surroundings, which is ideal for couples looking for a romantic weekend getaway. Check in to the Honeymoon suite at The Plettenberg. And if you are not yet married - Tsala Tree Top Lodge is an enchanting place to have your wedding.
Flying In
If you don't actually want to drive along the Garden Route and just want to get to Plettenberg Bay, check for scheduled flights out of Cape Town International and O R Tambo International Airport, Johannesburg.
What's Happening
Unwind at your Plettenberg hotel spa and forget about the rat race. Or escape altogether. For nature lovers, having accommodation at a Plettenberg Bay hotel means that in a short stay one can visit Natures Valley and Tsitsikamma Forest's Otter Trail and Formosa Forest in one direction, and in the other: Kruisfontein and Harkerville forests.
Plettenberg Bay Hotels