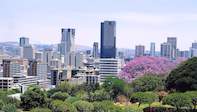 As one of the oldest cities in South Africa, and the centre of government, Pretoria's history can be expected to be both complex and colorful.
Hotel accommodation in Pretoria / Tshwane has traditionally been geared toward embassy diplomats, government delegates and business executives visiting their corporate head offices, and is therefore fairly localised to serve these visitors to the city. Choices vary between luxury hotel and superior self-service holiday apartments.
Pretoria / Tshwane Hotels
Reasons to Stay in Pretoria
In 1872, Pretoria hosted the FIRST public art collection in this country. With Pretoria's rich history, a plethora of museums, art galleries & famous landmarks offer a busy cultural holiday for a few weeks.Ideally suited for business travel (read: government business), Pretoria holiday apartment accommodation allows more privacy and provides more space for such things as your mobile office. But Pretoria is not only about work.There's sport! All these Pretoria hotels are near Loftus Versfeld Stadium, which stands in the tree-lined 'embassy belt' of the city, meaning no parking problems for you if you are checking in to attend a rugby, cricket or soccer game.
From Pretoria you can easily drive to Kruger Park. Only an hours drive from Johannesburg, you should check into one of these Pretoria hotels and spend a few days exploring the art and culture of this serene city. Take the Heritage Route through Hartbeespoort Dam, Pilanesberg National Park and Madikwe Game Reserve.
Pretoria's famous lavender coloured Jacaranda Trees blanket the city. The city boasts wonderful shopping malls, museums, art galleries and restaurants as part of its attractions.Pretoria has over 100 parks, including bird sanctuaries and nature reserves. The Pretoria National Botanical Gardens offer more than 5 000 indigenous plant species. Fountains Valley Resort, just outside the city offers some great activities like walks, trails and picnic area.
Whats Nearby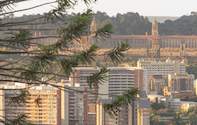 ©Shem Compion
Church Square
City Hall
Freedom Park
Hartbeespoort Dam cable car
Loftus Versfeld Stadium
Pretoria Art Museum
Pretoria Zoo
State Theatre
Transvaal Museum
Local Places of Interest
Attractions - Sightseeing
Pretoria has much to offer in attractions and sightseeing. The nature reserves, bird sanctuaries, skydiving and tandem skydiving, and the Pretoria National Botanical Gardens are just some of them.
Learn about Pretoria's great historical and cultural background at the various museums and national monuments, the Union Buildings, the famous Voortrekker Monument, and the many old structures.
Pretoria Hotels