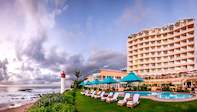 At Umhlanga Rocks in Durban, hotel accommodation is all about relaxation, fun and being on the beach - day and night. This is "beach city", so there are a lot of water sport activities for the active and adventurous, as well as giving children lots to keep them occupied.
Umhlanga has more than hotel accommodation. You can get a 3 room self-catering holiday apartment, and still enjoy the whole vibe is of a tropical beach resort. It gets hot lying in the sun, so grab a pi�a colada and be thankful to be away from work, in the sand and surf.
Umhlanga Hotels on the Durban Coast
Reasons to be in Umhlanga
Leisure, pleasure, golden beaches, idyllic sunsets, frivolous nights. No worries. Just what an Umhlanga Rocks beach holiday is all aboutUmhlanga Rocks, near Durban, has nothing going for it. Except miles of beaches, beach parties, and beach hotel accommodation. With casinos, entertainment, surfing and shopping at Gateway - you will find that Umhlanga hotels are about access to leisure and fun.Every night there is music, dancing, live performances and casino action. If you have been on safari up the north coast at Umfolozi or Hluhluwe, then a good plan is to take advantage of a hotel in Umhlanga, to relax and cool off for a few days, before heading back home.If you have the misfortune to actually be on business when you check into your Umhlanga hotel room, you will atleast have that holiday feeling. Only 2 Umhlanga hotels have conference facilities, but event organisers can utilise nearby hotels for high visitor numbers.If you are one of those sorts who likes to take their golf clubs for a bit of a holiday then you will find the
Mount Edgecombe Country Club
is going to be your favorite haunt while the kids go to the beach. All these Umhlanga hotels are about the same drive time from the 19th Hole.
Local Places of Interest
Casino nights at Sibaya Resort Golf at Mount Edgecombe Country Club
Shopping at the Gateway
Visit La Lucia Wetland Reserve
u'Shaka Marine World
Umhlanga Hotels