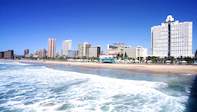 While looking for Durban hotel accommodation in South Africa, you should be aware that most of it is concentrated on the "Golden Mile"... Durban's beach front. So by and large, all rooms are sea facing and it is all glitzy and bright lights. Even if you are here on business, you will "feel" like you are on holiday.
Durban Beach Hotels
Reasons to be in Durban
Durban is in the middle of an "endless beach", and whether you drive north or south you will find many wonderful places to stop and visit, have lunch, and frolic.
Durban City Hotels
Durban city hotels, ideally located for the business traveller, range from 3 to 5 star, in or close to the city centre, they are well placed for conferences and corporate business. Smaller, quieter hotel accommodation is to be had in the nearby suburbs with some a short drive from the International Convention Centre.
Durban's pleasant, year round weather and the warm Indian Ocean make the city a water-sports mecca. The abundant sunshine and rich cultural history make Durban a popular holiday destination in South Africa. Durban beach hotels are located on The Golden Mile.Durban is mostly about holidays, and there is no doubt that between Shaka Marine World, and the annual A1 Grand Prix street race, you will find time to immerse yourself in sun and a mixture of Indian, Zulu and European cultures.Durban has a very "Indian" flavor and you will discover that Durban hotel hospitality is also very Indian in the high degree of courtesy, helpfulness and friendliness. Outside of Mumbai, Durban has the highest Indian population in the world - and some of the best chefs.Durban is home to a new Soccer World Cup stadium - the 70 000 seat Moses Mabhida Stadium. Only a short distance from the city centre, the stadium has become highly successful hosting events, concerts, conferences or fashion show extravaganzas.As with every major city in the world Durban city hotels provide more than accommodation for the business traveller. Conference venues and board rooms are everywhere, and in the middle of it all, the formidable Durban International Convention Centre.
Local Places of Interest
Sightseeing
Go shopping for imported Indian arts and textiles
Surfing and other watersports
White water rafting on the nearby Umgeni River
Rock climbing at Shongweni Dam near Durban
Gateway Shopping Centre
u'Shaka Marine World
Visit the Snake Park
Durban Hotels