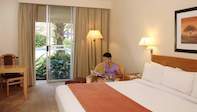 Unique to Polokwane hotel accommodation: Just 5km from the city life of Polokwane you can go on a late after- noon game drive and enjoy sundowners in the Limpopo bush. Further afield are the Selati Game Reserve and the Bewaarkloof and Wolkberg nature reserve and leisure resorts.
Polokwane Hotels in Limpopo
Reasons to Stay in Polokwane
This Boabab has been referred to as the 'largest living thing in the world'. Probably more than 6 000 years old, it is 22m tall and 47m in circumference. Inside the tree is a unique pub. Pop out to Sunland Farm at Modjdjiskloof and have a beer.Polokwane is the capital of Limpopo province, and is quickly becoming an important business hub in South Africa, attracting more and more business travellers. But it's not all work.As Polokwane is on the way to, or from, some pretty unique wild-life safari opportunities, it is also a popular leisure traveller destination. Check into one of these comfortable Polokwane hotels on your way back from a hot and dusty safari. Get a drink and head for the pool.There is plenty of unusual and interesting features for tourists to explore, or even for business travellers to discover during their free time.
Play the High Stakes at Meropa Casino
A casino experience that transports you into another world with state of the art casino tech- nology such as Smart Cards replacing feeding coins into slot machines. With 384 slot machines 9 American Roulette tables, 5 Blackjack tables, a Raise'em Poker table, and a Texas Cash Poker table
Local Places of Interest
Arend Dieperink Museum
Bakone Malapa Museum
Cyril Jackson Observatory
Hugh Exton Photo Museum
Land Of Modjaji, the Rain Queen
Largest Baobab in the world
Makapan World Heritage Site
Mapungubwe Museum
Modjaji Cycad Forest
Mogalakwena Craft Village
Polokwane Art Museum
Polokwane Museum
Swadini Reptile Park
Tsonga Kraal Museum
Woodbush State Forest
Polokwane Hotels