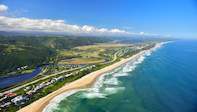 Garden Route Hotels are located on one of the most beautiful scenic routes in South Africa. Nestled between the Southern Cape and Stormsrivers near the Eastern Cape, the Garden Route is a diverse destination offering spectacular views of lush forest mountains, coastal vistas and charming small towns.
The Garden Route is a 200 km scenic route with sandy-white beaches, dreamy lagoons and friendly folk. This area is popular amongst families and outdoor enthusiasts. The area has a tropical climate with warm summers and cool winters. Most visitors are attracted to the Garden Route for its unique natural beauty and popular family-friendly attractions. Head out to the Knysna Head by boat, spot whales in Plettenberg Bay, enjoy a round of golf or simply just soak up the sea and sun.
The Garden Route National Park is host to a selection of mountain and marine protected areas. The Outeniqua and Tsitsikamma Mountains offers fantastic nature trails with spectacular views of Cape Fynbos and lush forest, birthplace of Southern Right whales and playground to awesome eco-adventure activities like bungee jumping, canopy tours and quad biking.
During your stay spend time exploring the quiet little towns along the coast and meet friendly locals. Head inland to the Klein Karoo - which informally falls part of the Garden Route - and visit the Cango Caves and ostrich farm in Oudtshoorn.
The secret is out, whether you're an adrenaline junky or seeking the country bliss, the Garden Route is the ideal destination for the entire family.
Knysna Hotels

Knysna is the heart of the Garden Route. The town boasts luxury accommodation, a lively Waterfront with trendy restaurants and boutiques, water activities at Leisure Isle, Nature Reserves and world-class golf courses.
Nature lovers can explore different trails through ancient Milkwood trees in the forest in search of the Knysna Loerie, while animal lovers enjoy a unique elephant interaction experience at the Knysna Elephant Park or stroll down Knysna's Main Road and discover fabulous arts and crafts markets, historical landmarks and cozy eateries.
See Knysna Hotels in South Africa
Plettenberg Bay Hotels

Plettenberg Bay or "Plett" is a popular coastal town on the Garden Route. Enjoy morning jogs through the indigenous Harkerville Forests or yoga on the beach. The town has a moderate climate which is ideal for swimming and sunbathing on one of the few golden sandy Blue Flag beaches.
Choose from a selection of restaurants offering anything from seafood to pizzerias.
Plettenberg Bay has a variety of activities including "cruising the crags", land-based whale watching, wildlife sanctuaries and bungee jumping to name just a few.
Plettenberg Bay is the ideal coastal splendor.
See Plettenberg Bay Hotels in South Africa
Mossel Bay Hotels

Mossel Bay is situated halfway between Cape Town and Port Elizabeth, and closest as harbour on the Garden Route. The town has the second mildest climate in the world, making it an ideal coastal destination with wide selection of activities that caters to young and old.
Spend the day visiting a game reserve and see Africa's big five, go shark cage diving, visit museums and dine at popular restaurants on the Diaz beachfront.
There are a few protected areas in and around Mossel Bay with nature trails that offers delightful views of the area, while the sport enthusiast can choose to play golf at any one of the 2 championship golf courses in town.
Whether you're looking of a leisurely break or visiting on business, Mossel Bay has something that appeals to all.
See Mossel Bay Hotels in South Africa
George Hotels

George is situated at the foot of the Outeniqua Mountain range and often described as the gateway and economic hub of the Garden Route. The town is approximately 430 Kilometers from Cape Town and accessible by road or plane.
Georges is sandwiched between mountains and sea and offers visitors an array of activities like mountain biking, horseback riding, golf and much much more.
Further down you'll discover fabulous beaches along the Garden Route Coast or head inland to the little gems of the Klein Karoo.
See George Hotels in South Africa