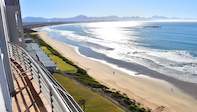 These Mossel Bay hotels on Garden Route, situated on or near the beach, provide an opportunity for historic tours, scuba diving, boating, adventure and adrenalin sports as well as wildlife safaris.
Mossel Bay Hotels on the Garden Route
Reasons to Stay in Mossel Bay
One of the pleasures of travelling is the "new food experience". Mossel Bay, with its Portuguese history, is no different. Mossel Bay Hotels have made sea food into an art form that you will be tempted to enjoy over and again.This picturesque town offers a tranquil haven from which to explore the many wonders and scenic beauty of the area.
With its mild all year climate
Mossel Bay accommodation is convenient and luxurious. Whether you want to soak up the sun during summer or find comfort in a cosy hideaway during winter, this is the ideal destination.Mossel Bay is a nifty holiday destination. A laid back atmosphere, sun drenched beaches, outstanding climate, excellent cuisine, friendly locals and a host of exciting attractions and activities for young and old, means that you are never short of ways to enjoy life.Enjoy the thrill of scuba diving, shark cage diving, surfing, kayaking, sailing, horse riding and bungee jumping. Take a trip on the histoiric steam train, the Outeniqua Choo-Tjoe, which travels between Mossel Bay and George for a fun day out.Any Mossel bay hotel is perfect as a base from whence to participate in top attractions such as island cruises, scenic steam train rides, bungee jumping and hiking trails. Wildlife safaris and Whale watching in season are also popular.
Local Places of Interest
Close to Santos Bay and the harbour, Mossel Bay is known for its many great beaches and deep blue seas. Mossel Bay has a very active art and crafts route where visitors can find many treasures to take home. The Dias Museum Complex is a top attraction with three museums and five heritage sites.
Mossel Bay Hotels
Protea Hotel Mossel Bay on Garden Route overlooks Santos Bay and forms part of an historic complex which is just five minutes from the beach. Mossel Bay...
more
Guests are assured of a warm welcome and wonderful Indian Ocean views at this Mossel Bay hotel on Garden Route....
more