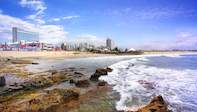 The minute you check into your Port Elizabeth hotel, if you are travelling on business, you will wish you were on holiday. Port Elizabeth is rated as having one of the best coastal city climates in the world, and these popular hotels are of course, mainly on the beach or near it and are all about leisure and fun. Whether it's a family holiday or romantic week-end.
Port Elizabeth Hotels
Reasons to Stay in Port Elizabeth
Port Elizabeth hotel accommodation is about providing you with a base from whence to explore, engage and adventure. Fly in or drive up the Garden Route, you are set for a real sea-side holiday with the bonus of being able to go on a Big Five safari.Since Port Elizabeth, is at the end of the Garden Route, your hotel provides the ideal place from which to venture to Shamwari and Lalibela game reserves for a safari, as well as Addo Elephant Park.As the second oldest city in South Africa, Port Elizabeth is also about history. From your Port Elizabeth hotel will be the base for your exploration of South African history and culture. Start with Algoa Bay where, in 1488, the Portuguese first landed.Golf at Humewood, one of the world's most challenging links courses with spectacular views of the Indian Ocean, and close to all the beach hotels. Or if you just want a short stint, try the 9-hole Shark River Golf Club further up the road.As with any hotel in a multi-cultural city, Port Elizabeth hotels offer world-class culinary delights that range from Portuguese sea food platters to Indian curries, as well as the inevitable noveau cuisine variety of food as an art form.Port Elizabeth is one of South Africa's top tourist destinations and this is evident by the world class attractions.
Beautiful and safe, the beaches provide for exciting water sports, while scuba enthusiasts will discover lots to explore, such as ship wrecks, (plenty) and coral reefs.
Local Places of Interest
Addo Elephant Park
Bayworld Oceanarium
Castle Hill Museum
Sea View Lion Park
Shamwari Game Reserve
Tsitsikamma National Park
Talk to a Siyabona consultant about safaris and game drives at Shamwari, Lalibela and Addo Elephant Park.
Port Elizabeth Hotels