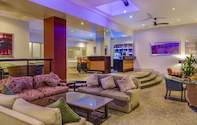 The 4 star Southern Sun The Marine Hotel in Port Elizabeth is known for its quality facilities, personal service and luxurious atmosphere while overlooking Pollock Beach and the rest of Algoa Bay.
Style: Modern / Luxury
Ambience: Comfortable
Location: On the Beach
Preferences: Family / Leisure / Business
Port Elizabeth, known as the Friendly City, is an ideal destination for holidaymakers, families and business travellers. It offers all the facilities needed for conducting business as well as featuring stunning, safe sandy beaches for leisure time. This Port Elizabeth hotel is among the top beachfront hotels in the city and offers unbeatable facilities and services.
Southern Sun The Marine Hotel overlooks the sun-drenched Pollock Beach and also offers guests breathtaking views of Algoa Bay. The location is ideal for those on holiday as it is within walking distance of the beach, various swimming pools, a casino and entertainment complex, the Oceanarium, Museum and Snake Park and various sporting facilities, including golf.
The luxurious facilities and finishings are evident from the moment guests step into the hotel. This Port Elizabeth hotel features a large reception area that is elegantly decorated to portray the comfort and style offered throughout the hotel.
Southern Sun The Marine Hotel offers luxurious and comfortable en-suite rooms. They boast magnificent sea views as well as all the modern conveniences expected of a four-star hotel.
Guest at this Pretoria hotel will enjoy a delicious meal at the hotel's, La Mer Restaurant, while drinks and sun-downers are served at the Deck Cocktail Bar. For those who are here on business, the hotel offers excellent conference facilities which can accommodate up to 125 delegates.