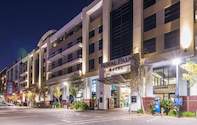 The Royal Palm Hotel provides luxury hotel apartment accommodation in Umhlanga Rocks near Durban Airport.
Spa Royale at Royal Palm
94 luxury hotel apartments
20 minutes from King Shaka International Airport
Four conference venues
This Durban airport hotel in Umhlanga is a shopaholics dream. It is located directly opposite the Gateway Theatre of Shopping which is the largest shopping complex in the southern hemisphere. This Durban airport accommodation has the finest position on Palm Boulevard and has a vibrant environment where people live, work, shop and play.
The Royal Palm Hotel's location is ideal for both business and leisure travellers as it is close to the La Lucia Ridge office estates, the Umhlanga village and the Umhlanga beachfront. It is also only about 20 minutes from King Shaka International Airport.
The Durban airport hotel accommodation is provided in 94 luxury hotel apartments, which include two- and three-bedroom penthouses. The hotel's signature THYME restaurant combines sophistication with contemporary dining. The restaurant includes a bar area, lounge, dining room and outdoor courtyard.
Whether travelling for business or pleasure, guests always need to feel relaxed and at ease. The luxurious spa offers a wide range of treatments and facilities to leave every visitor feeling rejuvenated. The hotel features a conference centre with various conference venues which can host events or meetings of different sizes.