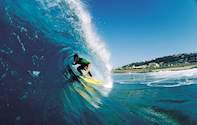 The Royal Palm hotel in Umhlanga is located opposite the Gateway Theatre of Shopping on Palm Boulevard in Umhlanga.
The Royal Palm is about 20 minutes from King Shaka International Airport and close to La Lucia Ridge office estate, the Umhlanga village and Umhlanga beachfront. This Durban airport accommodation can be found at 6 Palm Boulevard, New Town Centre, Umhlanga Ridge.
Directions from King Shaka Airport to Royal Palm Hotel
From King Shaka International Airport, Head northeast toward Sri Lanka Way Turn left at Sri Lanka Way Turn right at Watson Highway Turn right at N2 Toll road Take the ramp onto Outer Ring Rd, Partial toll road Take exit 182 for M41 toward Mount Edgecombe/Umhlanga Take the N2 Southbound (towards the North coast Umhlanga).
Take the Umhlanga, Phoenix & Mt Edgecombe offramp. Turn right at the traffic light (M41). Take off-ramp to Umhlanga Rocks Drive. Turn left at the robot (traffic lights). Go through the first circle, at the second circle turn left (Hickory Dr. /Centenary Dr.). At the traffic, the circle turn left into Palm Boulevard. The Royal Palm hotel is situated on the left-hand side – opposite the IMAX theatre.
GPS Coordinates
29:43:27.84 S
31:4:6.27 E