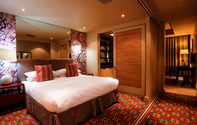 The Royal Palm Hotel is a stunning hotel in Durban, South Africa ideal for leisure and business travellers, with accommodation that consists of luxurious penthouses, executive suites, and sea-facing deluxe rooms.
The Royal Palm have 94 luxurious rooms that make up this Durban airport accommodation include 14 penthouses, 60 luxurious Executive Suites, 10 spacious Executive Deluxe rooms and 10 two bedroom Executive Suites.
All rooms at Royal Palm has a luxurious en-suite bathroom and a balcony with a view of the surrounding areas.
The Penthouse Suites are all about luxury, the hotel has 2 types of penthouse suites one with 2 levels and one with 3 levels. The Penthouses have an entrance hall, kitchen, dining room with balconies all very spacious.
All of the rooms have TVs, hairdryers, fridges, baths and showers, radios, room safes, air-conditioning, tea and coffee, private patios, telephones and mini bars.
Facilities
Laundry service
Smart TV
Hair Dryer
Complimentary High-speed Wifi
Mini Bar
Telephone
Radio
Room Safe