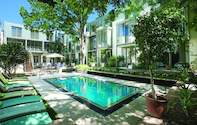 Offering luxurious Stellenbosch accommodation, grace and style for the discerning traveller, Oude Werf is South Africa's oldest and most historic hotel in Stellenbosch, Cape Winelands.
Style: Classic elegance / Luxury
Ambience: Intimate / Unique
Location: Town
Preferences: Romantic / Popular / Business
This Stellenbosch hotel in Cape Winelands has an old and proud heritage as the most historic hotel in South Africa. It was first established in 1802 and has set the standard for hospitality and fine dining for centuries. Located in the core of the university town of Stellenbosch, the hotel is only 45kms from Cape Town and 20kms from the sea. The surroundings are truly breathtaking as Stellenbosch is known as the premier wine region in the country and there are mountains all around.
Although Oude Werf dates back to the early 1800s it offers its guests luxurious Stellenbosch accommodation with all the comforts of modern living. It is the ideal base from which visitors can explore the magnificent Cape Winelands. This hotel in Stellenbosch, Cape Winelands, South Africa comprises 58 rooms. The rooms are all individually styled and decorated with antiques that have been collected over the years.
The hotel's Oude Werf Restaurant serves traditional and international cuisine and offers a wide variety of wines. Guests can also choose to sit outside in the vine-covered Coffee Garden on sunny days and enjoy a slice of cake. Oude Werf Hotel is the ideal choice for guests who want to relax and unwind. It has a heated swimming pool as well as a wooden deck where guests can soak up the sun. The garden is perfect for sitting back and enjoying a sundowner.