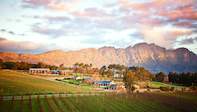 Franschhoek hotels put you up in splendid style, right in the middle of in the famous Cape Winelands. Surrounded by towering mountains and lush vineyards, Franschhoek, with its strong French heritage is known for its splendid wines and world-class cuisine. Hotels come with lots of extras: historic interiors, country living and an unhurried village atmosphere.
Reasons to Stay in Franschhoek
Visit the numerous wine farms for unforgettable wine tasting and award-winning cuisine. Explore Franschhoek's art galleries, craft shops and specialist antique dealers...

In the early 1700's the area was referred to as "de France Hoek", or "the French corner". By 1805 "Franschhoek" became the area's official name. There is just one main street lined with restaurants and cafes, galleries displaying local arts, craft shops and antique dealers. And of course - wine estates. And at the end of the road, the gracefully timeless Huguenot Memorial.Franschhoek is within half an hour's drive from Stellenbosch, Paarl, Wellington and Somerset, making a Franschoek hotel a nice central base from whence to explore the Cape Wine route. Franschoek is also part of the scenic Four Passes Fruit Route.
Eat. in the 'Gourmet Capitol' of South Africa, boasting 8 of the 100 top restaurants in the country...

Bouillabaisse

Grande Provence

The Greenhouse

Haute Cabriere

Reuben's

The Tasting Room
With a legacy of more than three centuries of the original French settlers, and the town is famous for its wines and vast wine estates, they had to have a cuisine to go with the wine. Visit them for tastings and cellar tours. As well as purchasing - by the bottle or buy the case.Franschoek hotel accommodation reflects the hospitality of a rich French heritage of art, culture, architecture, cuisine and viticulture. A celebration to living life well.Just about the whole of Franschoek is a national monument: the Dutch Reformed Church, built in 1847 is open to the public on request; the Huguenot Memorial commemorates the 1688 arrival of the Huguenots; the Jan Joubert's Gat bridge, one of South Africa's oldest bridges in still in use on Franschhoek pass.
Franschhoek Hotels