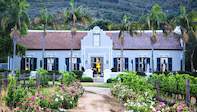 Paarl hotels in the Cape Winelands offer excellent lodging against mountain backdrops and picturesque vistas where you can experience the true beauty of the 'Pearl' of the Cape.
How about a romantic wedding ceremony in a 300 year old chapel, a horse drawn carriage and a celebration in grand style reminiscent of an 18th century fairytale? These wedding venues in Paarl provide more than the place. Supported by wedding services, flower and musical arrangements, make-up and attire consultants and a religious minister.
Paarl Hotels in the Cape Winelands
Reasons to Stay in Paarl
Get married and have your honey- moon in lavish style. And have your own 19th century horse drawn carriage. Enjoy a wonderful dining experience with your guests, and a tranquil country setting when they are gone.The quaint, historic town of Paarl in the Cape Winelands is a wonderful location for any holiday guest to cape Town who wishes for tranquility in pristine surroundings whilst having the convenience of travelling to Cape Town or the coastline.Feel rejuvenated at this unique South African destination. A refreshing Mediterranean-like climate and various attractions such as golfing, wine tasting and sightseeing ensure a most memorable trip.Paarl is the perfect base from which to explore Cape Town unhindered and many famous South African wine Estates are located on the slopes of Paarl Mountain providing great visits for connoisseurs and enthusiasts.
What's Nearby?
40 minutes from Cape Town
Paarl Golf Club
Wineland Towns of Franschoek and Stellenbosch
Paarl Hotels