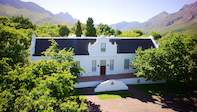 Stellenbosch hotels in the middle of the Cape Winelands offer an escapist pastime, far removed from our hurried urban lives Be transported into an era of unhurried leisure and the pursuit of fine living set against the backdrop of a cultural heritage that has withstood the test of time.
Stellenbosch accommodation provides a perfect country getaway for families on a school break, couples seeking a romantic weekend or gastronomers seeking that extra culinary delight that is guaranteed tantalize.
Reasons to Stay in Stellenbosch
Breathe in the history of one of the oldest cities in South Africa. Discover the Cape's cuisine and drink a toast to the famous Cape wines.Stellenbosch is the wine capital of the Cape Winelands. Explore the fascinating buildings and museums? In all likelihood, your Stellenbosch hotel will be one of these historic buildings, furnished in the old Cape-Dutch style, evoking your spirit of romance.You can enjoy a day in the tranquil surrounds of a beautiful wine estate. Or even at your Stellenbosch hotel, for that matter - after handling the more energetic pursuits such as hiking or biking in the mountains. The breathtaking scenic beauty of Stellenbosch, gives pause for reflection on life. Live it. Don't rush it.'One cannot think well, love well, sleep well, if one has not dined well,' said Virginia Woolf. That said - be warned that where ever you might stay in Stellenbosch, you will be surrounded by temptation, so be prepared for exquisite dining forays. Arrive hungry. You'll not be disappointed.
Local Places of Interest
Activities and attractions in Stellenbosch include visiting old buildings, museums, world famous wine estates as well as playing golf, or taking a hiking trail in the mountains. Of course since you are in the winelands - tour the wine route for wine tasting and buy a few bottles as souvenirs.
Stellenbosch Hotels