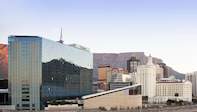 Cape Town Foreshore hotel accommodation provides one advantage over the other city hotels: Convenience for business travellers. They are on the edge of the city and close to the freeway heading out to the airport. They also enjoy quick access to the Waterfront and the central business district
Cape Town Foreshore Hotels
Reasons to Stay on the Foreshore
Perfect for business travellers, Cape Towns Foreshore hotels offer the convenience of being in the central business district, as well as quicker access to the airport.So, be in the city for business, yet positioned for a speedy exit. Your accommodation at any Cape Town Foreshore hotel is 5 star or luxury condominium with 2 and 3 bedroom apartments, looking out on sea or mountain views across the city.Cape Town International Convention Centre is located on the Foreshore right opposite the entrance to the V&A Waterfront, and is the prime spot for every major event - making accommodation at these Foreshore hotels imperative for convention visitors, exhibition organizers and conference delegates.Also on the Foreshore is the Artscape Theatre Centre, home to the Cape Town Philharmonic and Cape Town Performing Arts. So if you are a famous performer, singer, musician or actor you have the convenience of hotel accommodation close to work.
History of the Cape Town Foreshore
Cape Town Foreshore is the area of land reclaimed from the sea during the construction of the dockland area between the years of 1938 to 1945 comprising of 194 hectares (480 acres). Because this was now all "new land" the architecture that was developed in the 50's and 60's was very different from the rest of Cape Town which has building dating back to the original Dutch settlers.
Now in later years, with wider boulevards and more modern buildings, Cape Town's Foreshore has a "flavor" all of its own.
Whats Nearby
Cape Town International Convention Centre
Central Business District
Cape Town Waterfront
Hotels near the Foreshore
See other similar hotels nearby.
Cape Town Foreshore Hotels