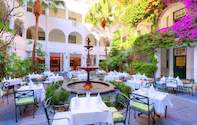 The Winchester Hotel is a Sea Point hotel in Cape Town, providing superbly located beachfront accommodation.
Style: Luxury
Ambience: Colonial elegance
Location: Beachfront
Preferences: Unique / exclusive
Travellers looking for a luxury Sea Point hotel in Cape Town with a beachfront location need look no further than The Winchester Hotel. It is situated on Cape Town's Platinum mile, overlooking the Atlantic Ocean and is close to many of Cape Town's famous sites, including the V&A Waterfront and the Cape Town beaches.
This Sea Point hotel in Cape Town was built in the 1920s and still wears its original Cape Dutch architecture and ambience of pure elegance. The Winchester Hotel compromises mountain or sea-facing rooms and suites, all offering world-class standards and comfort. A unique guest experience is guaranteed at Harvey's restaurant, bar, courtyard and terraces. Harveys' cuisine will treat the taste buds of all guests.
The location of this Sea Point hotel in Cape Town is very convenient for business and leisure travellers. It is close to Cape Town's tourist attractions, beaches, highways and the city centre. The staff at the hotel ensure personalised, warm and friendly service that will make guests return every time they visit Cape Town.