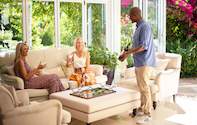 Last Word Constantia in Cape Town offers guests elegant Constantia accommodation in the Cape's oldest wine region. The hotel provides a unique and special holiday experience.
Style: Luxury/exclusive
Ambience: Contemporary elegance
Location: Countryside
Preferences: Leisure/business
Last Word Constantia in Cape Town is situated in the heart of the oldest wine region of the Cape and provides a magnificent setting to enhance a special holiday experience.
Last Word Constantia is an elegant and luxurious boutique hotel that offers its guests a comfortable and unique stay. Guests can choose to be accommodated in suites or superior double suites.
The decor used throughout this hotel in Constantia is mostly traditional country-style, which is elegant and sophisticated. Examples of eclectic African art are also displayed throughout Last Word Constantia which provides a relaxing environment. Some of the patios also feature special original mosaic art.
Breakfasts can be enjoyed in the Guest Lounge and Dining Area. Guests can choose from a variety of restaurants in the area for all other meals. A relaxing way to spend a sunny day is to soak up the sun alongside the hotel's luxury swimming pool which has a surrounding tanning deck and is sunk below ground level to ensure privacy.