Bantry Bay Beach Holiday Hotels in Cape Town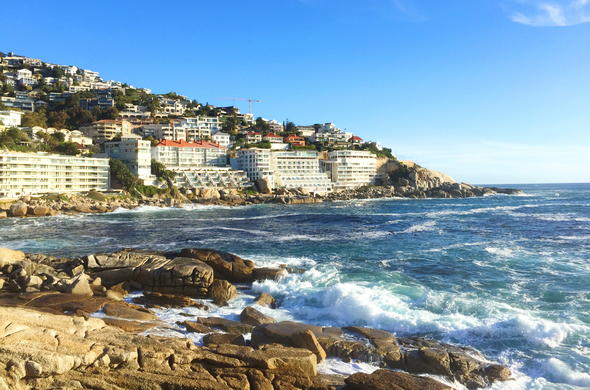 All Bantry Bay hotels in Cape Town lie on the 'Platinum Mile', a narrow strip between the city and the sea.
This up-market residential suburb is set on the actual base of Lions Head Mountain as it rises out of the sea. And this is where Cape Town's Bantry Bay comes into its own, as choice destination for the monied traveller.
Bantry Bay Hotels in Cape Town
Enjoy superb sea views and sunsets. While you are driving along on the coastal road running around the edge of Cape Town's western fringe, you can hardly see any "hotels" because you are actually driving above them.
Most of these Bantry Bay hotels in Cape Town are built on the lower slopes where the mountain meets the sea.
This ensures that all rooms have uninterrupted sea views, and being on the western slopes - your evenings commence with spectacular sunsets.
Luxury is what Bantry Bay accommodation is about. And dynamic modern design.
You will definitely find yourself at home surrounded by custom finishes, fine fabrics and designer catalog furnishings. But all so under-stated.
Exploring Cape Town from your Bantry Bay hotel can only be done by driving along the edge of the ocean.
Whether you drive north to the V&A Waterfront and the city, or south to Camps Bay and the southern peninsula, you do so with a magnificent view that stretches to the horizon.
And, it's not just for holidays. A Bantry Bay hotel is perfect for the business traveler, who would rather by-pass all the massive hotels in favor of something more intimate and personal.
That's assuming that you won't keep wishing that you were rather on holiday.
Local places of interest
V & A Waterfront
Cape Town Soccer Stadium
Camps Bay & Clifton Beaches
Cape Town International Convention Centre