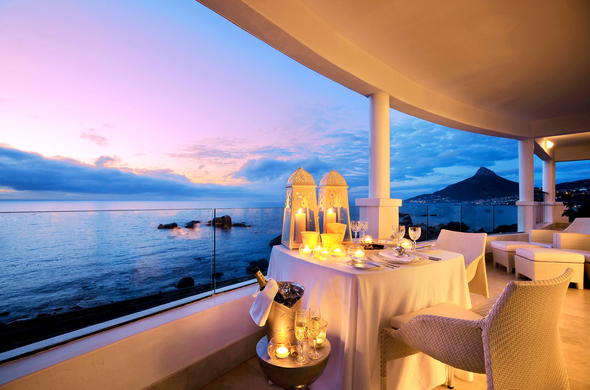 These hotels around South Africa have been selected by our consultants as as the Most Romantic hotel experiences amongst our Partner Hotels in any specific area. Chosen because of their ambience, degree of privacy, location, and a possible spa - for good measure.
Cape Town Beach Vacations
With it's Mediterranean climate and cosmopolitan vibe, Cape Town attracts several hundred thousand travellers every year who come not only for the beaches, but the 'extras', such as Table Mountain, South African wines, and annual sports events.
Beach hotel accommodation in Cape Town caters for every taste and budget and whether you are travelling on honey moon, or coming here to get married, you will be sure to find just that exact hotel that will match your needs.

Elsewhere in Cape Town
If the beach is not your interest and you would rather be shopping, exploring the city's history and culture, or visiting theatres and art galleries, these classy and intimate establishments are the ones to go for. From super-chic to stylish grace, and even including luxury self-catering apartment style living, all these Cape town hotels are fairly central and convenient.
Country Romance in the Cape Winelands
Escape the city. Head for the mountains and valleys of the Capes winelands. Here in the centre of South Africa's many famous wine producing estates, you can wake up to crystal clear air and picturesque scenery.
Have your taste buds tantalised daily on a culinary adventure, and explore the different wines on your trips around the countryside. And if your idea is to get married - this selection of hotel establishments will give you the best start in finding the right venue for you.

Franschoek

Stellenbosch
Paarl
Constantia
Umhlanga Rocks

Undoubtedly one of the finest beach resorts in South Africa. This is just sun, sea, sand and champagne. As well as an exciting nightlife. Perfect for the romantic lover in you who wants to escape and have excitement at the same time.
Port Elizabeth
With miles of flat beaches and an exhilarating semi-tropical atmosphere you can spend your days tanning, swimming and engaging in your favorite water sport.
Plettenberg Bay

Take your honeymoon to new heights with 5 star luxury over looking the forest, or right on the beach. Both of these hotels come complete with spa treatments, too.
Knysna