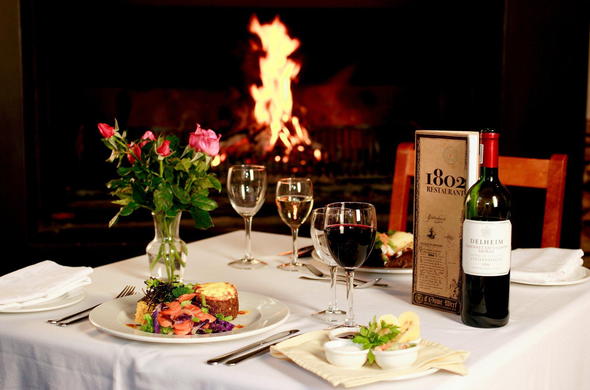 Gourmet Holidays in the Cape Winelands feature superb South African wines produced in the surrounding wine farms, paired with cuisine from some of the finest restaurants in South Africa.
Franchhoek
The historic, picturesque town of
Franschhoek
hosts eight of South Africa's Top Ten eateries. The best reason for staying for a few days. Maybe a week. And when you are not 'sampling' the various culinary delights, turn your attention to the many exquisite cultivars.
Stellenbosch

The History of Good Eating
starts at the d'Ouwe Werf hotels' 1802 Restaurant. One of the oldest buildings in one of the oldest towns in South Africa. Good food. Good wine. Good company where ever you go. Good reason to not want to go back home.
Paarl

Living in luxury on a country wine estate
with vineyard and mountain views you will get to indulge in the finest cape wines served with tantalizing gourmet delights and a good helping welcoming hospitality.
Constantia

Constantia country hotels
give you ample reason to try and bribe the chef for some recipes.
Stay on the estate of your favourite wines and be closer to the source of one of life's greatest pleasures: eating well in the company of the one you love, and doing that with a good wine.